"Genuine moments of pure delight for the fans!"
- Liverpool Student Media -

"They have literally done Bloody well right!"
- Classic Rock Society -

"An evening of truly classic rock
which left the audience wanting more..."
- Radio Choice Worcester -

"A magisterial interpretation of all the Supertramp classic"
- Porto Leisure guide (Portugal) -
The Logical song, Breakfast in America, Goodbye stranger, Take the long way home... A few amongst many of the massive hits among the 1979 Breakfast in America album that make up the timeless repertoire of Supertramp! These songs are now worldwide rock classics and FM radio staples, that over the passing four decades have remained in the hearts of millions of fans... and in the hearts of the musicians that make up the only UK tribute to the mighty Supertramp :

: the "Spirit of Supertramp"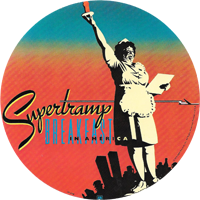 Based in London (United Kingdom), Logicaltramp is made up of talented professional musicians with amazing credits ranging, who all share a collective love and passion for the music of Rick Davies and Roger Hodgson...
Logicaltramp bring their own unique approach to the music of Supertramp – not only the Breakfast album, but playing full-on two-hour rock shows that includes all of Supertramp's greatest hits, all of their stand-out epic album tracks and even a few rarities for the die-hard fan!
Logicaltramp have performed many concerts both in the UK and abroad and have received amazing reviews from Supertramp fans everywhere with also fantastic press reviews (e.g. Classic Rock magazine, Classic Rock Society, ...) wherever they've played with international reviewers enjoying their unique take on the classic Supertramp sound. You miss Supertramp ?...Come and enjoy some of their great music with Logicaltramp !
Last but not least, Logicaltramp have been very fortunate to receive glowing endorsments from the members of Supertramp themselves: Roger Hodgson, Carl Verheyen & John Helliwell have been amazingly supportive, John Helliwell even joined them on stage for an unforgettable performance of The Logical Song!!
Logicaltramp is so very proud to play the wonderful compositions of Rick Davies and Roger Hodgson, they very much hope you like what they do as well!....? Just keep on visiting this website for further details! They hope to see you at a concert in your home-town very soon !!

NEW! GET SOME T-SHIRTS, STICKERS, PICTURES, ETC...