Tour band 2020, featuring Simon Hitchenson (vocals) and Grant Wildy (drums)
Mannequin challenge - Palau de la Musica, Barcelona - Jan. 2017

B FESTIVAL , Longfield (UK) - July 6th, 2018 [gallery]
Surely. Video clip from our album "Not Quite Famous" songs of Supertramp.

SONO CENTRUM , Brno (Czech republic) - April 27th, 2018 [gallery]
From now on, alto sax solo excerpt - MONTAUBAN (France), Aug. 22, 2014

ZLIN CONGRESS CENTER, Zlin (Czech republic) - April 28th, 2018 [gallery]
Give a little bit intro, BRNO Centrum, Brno (Czech republic - April 2018)

PALAU DE LA MUSICA, Barcelona (Spain) - March 27th, 2018 [gallery]

PALAU DE LA MUSICA, Barcelona (Spain) - January 21st, 2017 [gallery]
Video excerpts, AUDITORIUM de PALMA DE MALLORCA, Jan. 7, 2018
HUNTINGDON HALL , Worcester (UK) - November 11th, 2017
Laurent guesting with CARL VERHEYEN BAND, Baked Potato, Los Angeles (USA), for a special version of Bloody well right (excerpt) Feb. 16, 2019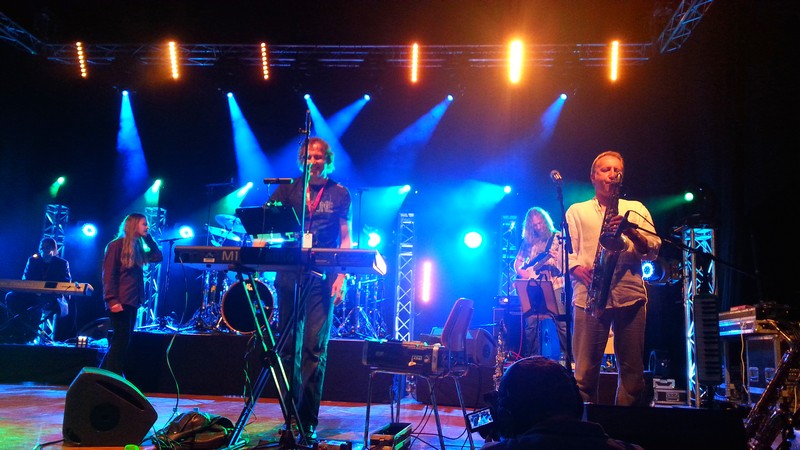 Festival LES PROMOS, Le Locle (Switzerland) - July 4th, 2014 [gallery]
Fool's overture (excerpt) - Festival les Promos, Le Locle, Switzerland 2014

MUSICA NA COMPORTA, Comporta (Portugal) - August 13th, 2010

LES NUITS VAGABONDES,
Cassis (France) - July 21st, 2012
Unplanned "Lady"... (encore after the encore). A funny moment
when audience didn't want to leave despite the lights back on...
We had to come back on stage to play a last and non listed one...
Palau de la Musica, Barcelona 2018

MATTHEW STREET FESTIVAL, Liverpool (UK) - August 31st, 2009

WALLED GARDEN FESTIVAL , East Sussex (UK) - July 16th, 2016 [gallery]
Audience footage at Hybernia Theatre, Prague (Czechia), Oct 28, 2019

LIVING ART CENTRE, MIssissauga (Canada) - November 27th, 2008
You started laughing, intro at TROPIC AT RUISLIP, Nov 27, 2015
(credits M. Lynch)
Tourband 2020 featuring, from left to right:
Alex Kundig, Gary Hopkins, Simon Hitchenson, Grant Wildy, Anthony Clayton, Laurent Hunziker, Serge Sainte Rose.
Give a little bit, The 1865, Southampton, Jan.17, 2020
(credits M. Lynch)
Febre de sabado - RTP TV show (Portugal) - March 17th, 2006